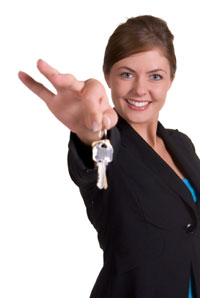 ---
Property Management Services
All of our rentals are shown to the prospective tenants by our staff. We do not give out keys.
Baxter Wellington offers full service property management. We solicit tenants numerous ways, our large post signs, Our Internet web siteand the dozens of other websites we list our Rentals on. ie Craigslist, Rental.com. We also gain a competitive advantage by networking with the more than 20,000 Realtors on the local (MLS) multiple listing service.
Normal time to rent is 30-45 days or less for vacant properties in rent ready condition,
Tenant Back Ground Verification: We run a TriMerge credit check, unlawful detainer check, looking for evictions not on the standard credit reports. We talk with past and present landlords, and we verify all income through pay check stubs and contact with the employer.
Repairs: Repairs are done by one of our contract repair companies. These companies are not owned by Baxter Wellington or any of its other divisions. We do not mark up any of their invoices. We do have a maintenance crew that will do the occasional lite maintenance task. As our client you have the choice to pick the repair company.
Owners Money:
All owner's proceeds are Wire Deposited in your checking account, at your expense or mortgage payments can be done if the owner has an online account with their lender.
Evictions. Everyone wants to know about evictions, but here the chance of an eviction is small. Most of the evictions we handle are tenants that were given to us by the owners, after they had already moved a tenant in and then asked us to take over when tenants were not paying. The national average for evictions 5%. Our eviction rate is much lower, We are proud of our record of getting quality tenants and top rents for our owners. However, if an eviction is called for there are two ways to do them:
Evection services can be billed directly to the owner when the owner holds the deposit.
OUR Fee Schedule
Set Up Fee: $295 (Discounts are available for multiple residential properties).
Monthly Management Fee: 10% of the collected rent.
Late Fees: 1-15th $150.00 late fee. Owners get 50%. (Most companies keep 100% of late fees).
Between Tenant Charge: $150 - $350. (To find a new tenant) Depending on advertising and media charges.


You need a Baxter Wellington® Professional Real Estate agent.
Please give us a call and see what a Baxter Wellington® professional Realtor® can do for you.
6820 Indiana Ave Suite 110 Riverside CA. 92506
951-236-7147
BRE# 01378659