Answers to most of your questions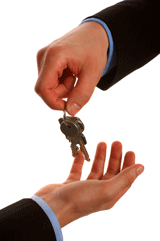 Why should I use a real estate agent?
A real estate agent is more than just a sales person. A real estate agent may act on your behalf, providing you with advice and guidance when buying or selling a home. Due to the constant changing of the market, the information available on listings is not always 100% accurate. There are times when you need the most current information about what has sold or is for sale, and the only way to get that is with a real estate agent.
If you are in the market to buy, it would be advisable to use a Buyer's Agent. They can make recommendations on what terms and prices to offer as well as negotiating a deal with your best interest in mind.
What is a REALTOR®?
A REALTOR® is an agent or agency that belongs to the local or state board of REALTORS® and is affiliated with the "National Association of REALTORS® (NAR). They follow a strict code of ethics beyond state license laws and also sponsor the Multiple Listing System (MLS), which is used to list houses for sale.
What's the Difference between a "Listing Agent" and "Selling Agent"?
Listing Agents usually deal with sellers, and are the ones who will list a property for sale on the Multiple Listing Service.
Selling Agents (also Buyers Agents) mostly deal with the homebuyers, usually only listing just a few homes for sale. They will sell the homes (which have been placed in the MLS) via the listing agents.
The majority of agents will focus on one or the other. Some agents will also divide their time between sellers and buyers and are usually regarded as the best ones since they are dealing with both sides of the coin.
If you phone an agent from a magazine or newspaper ad, you are usually contacting the listing agent. These agents will place ads to show the seller that they are making an effort to sell their home. Also their advertising efforts can draw others who may decide to sell their homes.
What is a broker?
An agent who is authorized to open and run his/her own agency. All real estate offices have one principal broker.
What is a Multiple Listing Service (MLS)?
A multiple listing service is a computerized listing of the homes for sale in an area listed with a realtor. Agents are granted access to the MLS and can use it to find a house in a particular price range or area.
Is an older home as good a value as a new home?
This is really just a matter of preference, but both newer and older homes offer distinct advantages, depending upon your unique taste and lifestyle.
Older homes can generally cost less than new homes, however, there are many cases where new homes can also cost less then older homes. Most new homes will not have any backyard landscaping and some don't include any front landscaping either. With an older home, the landscaping is normally already completed and could have 10''s of thousands of dollars in landscaping done, which is included in the purchase price.
Taxes on some older homes may also be lower. Some people are charmed by the elegance of an older home but shy away because they're concerned about potential maintenance costs. Consider a home warranty to get the peace of mind you deserve. A good Home Warranty plan protects you against unexpected repairs on many home systems and appliances for a full year or more after you move in.
Can a home depreciate in value?
Generally, real property never depreciates in value, or more so, it is not very common for property to depreciate. This is why it's a great investment. Make sure you carefully consider location and community when choosing a home, it can effect the homes future value greatly.
If you are in a newly developed area, do some research on the construction of the surrounding areas being developed to determine if they may effect your homes value.
What is a contingency?
A contingency is a provision included in a sales contract stating that certain events must occur or certain conditions must be met before the contract is valid.
What is title insurance?
Title insurance is insurance that protects the lender and buyer against any losses incurred from disputes over the title of a property.
What is an escrow officer?
An escrow officer is the person that walks you through the closing process. They are usually employed by the title company that you are working with. They are a neutral third-party, responsible for overseeing the escrow process. They typically perform the title searches, prepare final paperwork, witness the document signings as well as ensure that the transaction is executed properly and legally.
What is homeowners association (HOA)?
Homeowners association is a nonprofit association that manages the common areas of a condominium or "planned unit development" (PUD). Unit owners pay a fee to the association in order to maintain areas such as a pool or playground that are owned jointly.
What is the difference between being prequalified and preapproved for a loan?
If you're prequalified it means that you POTENTIALLY could get a loan for the amount stated to you, assuming that all of the information you provide to the bank is accurate and true. This is not as strong as a preapproval.

If you're preapproved, it means that you have undergone the extensive financial background check, which includes looking at your credit history, previous tax returns and verifying your employment - and the lender is willing to give you a loan, basically meaning you're approved!

You will usually be provided an accurate figure which shows the maximum amount that you are approved for. Most sellers prefer buyers that have been preapproved because they know that there will not be any problems with the purchase of their home.
What are closing costs?
Closing costs are expenses incurred by buyers and sellers in transferring ownership of a property.